Beginner to Advanced Course
Learn UI/UX Design First
& Pay Later
Apply Now for FREE
Only 19 Seats Available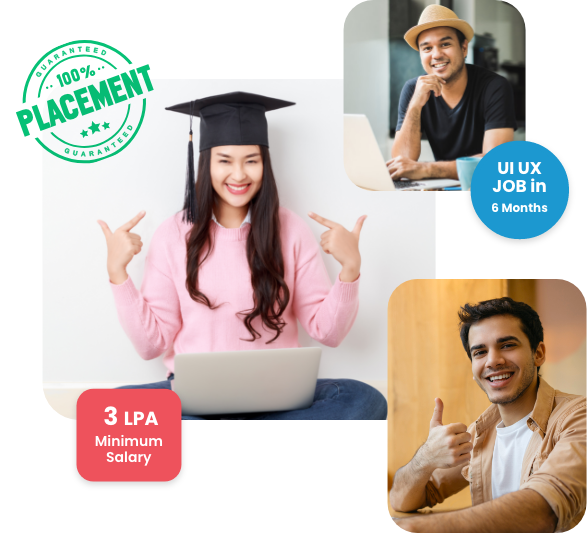 Pay ₹0 till Placement
An online remote program, taught by experienced teachers, students will get industry relevant skills and can join from anywhere.

- No Upfront fee
- Pay only after you get a Job of 3 LPA
- After Placement Pay 30% of your monthly Salary for 12 months
Top 10
Skill of the Future
10+ Lakh
Jobs available in the Industry
$52,683
Average UX Salary across 107 Countries
$40,742
Global Average UX Salary for UX Designers with 0-3 yrs of Experience
$15,227
Average UX Salary for UX Designers with 0-3 yrs of Experience in India
$76,996
Average UX Salary for UX Designers with 0-3 yrs of Experience in USA
Master
For Students
(6 Months Program)
For Students
No prior coding skills required
Minimum-CTC Guaranteed ₹ 3 LPA
₹ 0 Course Fee + After Placement Pay 30% of your monthly Salary for 12 months
or
Onetime Course fee ₹ 50k
Registration fee: ₹ 15,000
(It is fully refundable in 1 week if you drop out or adjustable with ISA / Upfront Course fee payment after 1 week )

Duration: 6 Months
Full Stack
For Professionals
(4 Months Program)
For Professionals
No prior coding skills required
Salary Hike Guaranteed 15%
Upfront Course fee ₹ 40k
Duration: 4 Months
Dezign School Guarantees
Dezign School reduces the financial risk for our students by charging no upfront Course Fee, so if you decide Dezign School isn't right for you, simply withdraw by the end of the first unit with no tuition obligation or penalties.
How to Apply ?
Show us that you are willing and committed to studying an intense career to become a UI UX Designer and Transform your life.
Application Form
Tell us about yourself and your background with this form.
Entrance Test
To test Aptitude and basic Design Skills in this round.
Interview
Interview to help figure if this course is a right fit for you.
Pay ₹ 0 Course Fee
Our Income Share Agreement is ₹ 0 Course fee + 30% of your salary for 12 months.
Pay ₹ 50k upfront
Instead of an Income Share Agreement, students can opt to pay Dezign School ₹ 50k upfront one time course fee.
Success Stories
All Dezign School students is unique but they all have one thing in common: They started exactly where you are now.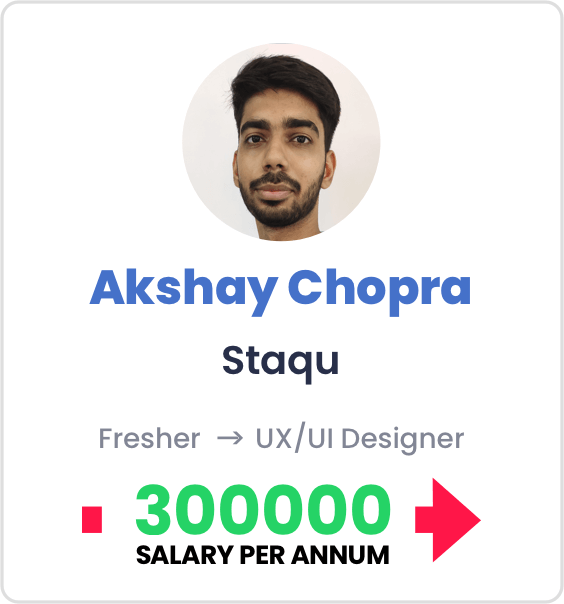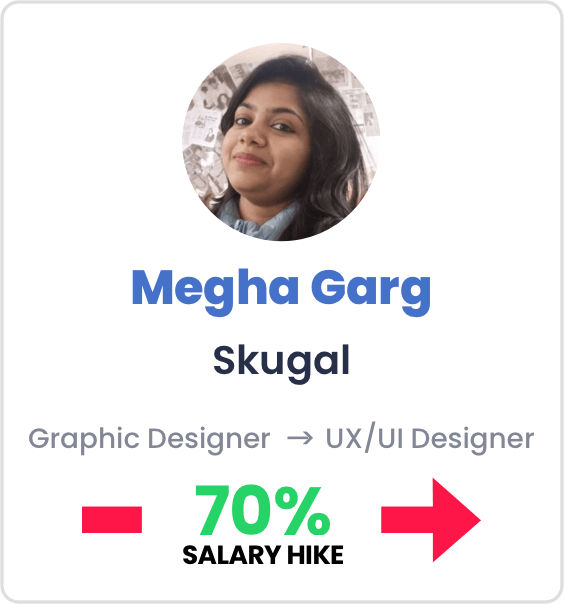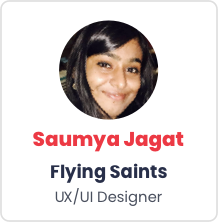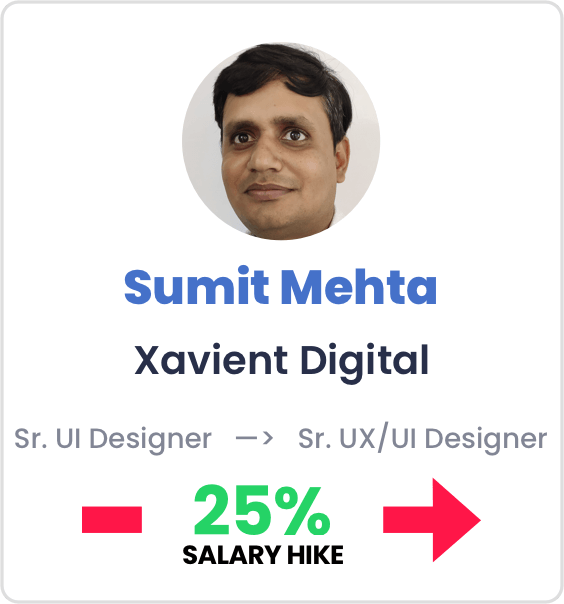 Where is Dezign School located ?
Dezign School is based in Delhi, India. But it is completely an online platform.
Who is eligible to apply for Dezign School course ?
To be eligible for this program you must have cleared the 12th standard under CBSE/ICSE or any other boards recognised under the Indian education system and must be above 18 years of age. Any other degree or certificate is neither required nor recommended.
How much % of salary should I pay and for how long ?
You have to pay 30% of the monthly income for 12 months where your salary is ₹3 LPA or more.
If I get placed without the help of Dezign School placement cell, am I still obliged to pay ?
If you get a job within 1 month from the start of your course, you don't have to pay anything. But after that time period, yes you'll have to pay even if you get placed without the help of Dezign School. We believe that during these 6 months you'll receive tremendous learnings from this course which will help you crack interviews for UI UX Design Jobs.
Can I pay upfront and join Dezign School without test and Interview ?
No, This option is not available. Our selection process is only on merit basis (Online test & Personal Interview). Invest all your time and effort in cracking the online test, completion of pre-course and Interview.
Is there a Registration Fee involved ?
Yes, if you get selected for the course, you need to pay Rs. 15,000 as a registration fee. The registration fee helps us make sure that only committed student join the program.

The amount of Rs. 15,000 will be adjusted in the ISA payment or Upfront Course fee Payment. Upon final selection, payment of registration fee is mandatory to reserve your course seat and admissions into dezign school.

- It is fully refundable if you decide to opt out of the course in the 1 week.

- If you decide to continue after 1 week, then it is adjusted with ISA or Course fee payments.
About Dezign School
We train Indian students to be UI UX Designers for free and help them find a high paying job in exchange of a share of their future income. Students would have to pay only if he got a job with a minimum salary of ₹3 LPA. Select students can become professional-grade UI UX Designers through a 6 month online program.

While the majority of universities and institutes in India are very costly to join, their courses are often outdated and theoretical; Dezign School provides online job ready skills in ui ux design that's free until you get a high-paying job.
Leading Companies
Hire UX Designers

Address
+91 8447242301
hello@dezignschool.com

Delhi, India